For more than 25 years, Nalda Callender has served the community as an inspiring woman and leader. She has dedicated her professional and volunteer work toward challenging the perceptions and position of people of African heritage in society.
Her rallying call to action is the promotion of an environment in which racialization and ethno-cultural categories, while they exist, are not used to determine the level of one's participation in society or the level of access to available resources. She has worked steadily to create an environment in which individuals are able to have a voice, find a place and have equitable participation.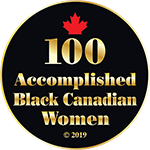 The impressions that informed her life began with Nalda's birth in 1944. She would stay in her first community of St. John's, Antigua, an island in the West Indies, until the age of 23.
She came to Canada during Montreal's World Expo in 1967 and chose to make that city her home for 13 years before coming to Vancouver in 1980. She made that journey with her then four small children ranging in age from 10 to one.
Nalda guided her young family through that transition from east to west, from French to English language cultures and from a richly diversified Afro community with many role models and neighbours for her children to a different and sparser cultural landscape.
"I raised my children on my own the best way possible," says Nalda. Today, she takes pride in her five adult children, Charles Perry, Dr. Tara Perry and Keisha, Nyasha and Maya Callender as well as grandson, Jacob. All are living testaments to her love and care.
Part of that care was ensuring their connection to their community. "I came to BC with arts and crafts and children's songs which my children knew well. The art was pictures of role models of Afro American, Canadian and Caribbean origins. These were the things that gave me the assurance that my children would recognize and understand their heritage, even through pictures."
In Montreal, Nalda and her family found a familiar community to gravitate to. "It felt like home to find a city with so many originally from the Caribbean. Africans in most of these areas would not come till later on."
"My children were exposed to what we call a 'Black Community'. They had other children of African heritage be active with on weekends and in summer at the community centres, in areas such as Ville LaSalle, Outremont, NDG and Cote Des Neiges. I was immersed in all forms of activities with them."
In Vancouver, Nalda joined others to build a community she hoped would nourish her children and support others.
In 1983, she was invited to join and establish a Chapter of Congress of Black Women Canada (CBWC) here in Vancouver. "I did this in 1984 and was a Representative for a number of years, Treasurer for another couple of years and later given the opportunity to develop an application for Charitable Status for the CBWC. The application was successful and we now have a separate entity known as the NCBWF or National Congress of Black Women Foundation established in 1992.
Her vision and tenacity resulted in her being instrumental in getting Canada Post to issue a commemorative postal stamp. In February 2009, and since, Rosemary Brown's contribution to British Columbia and to all of Canada was honoured. Nalda is also a founding member of the Rosemary Brown Annual Award for Women which was established in 2005.
Nalda's demonstrated strength as a leader centres on her ability to build bridges between and across many and diverse communities. To achieve this, she calls on her keen awareness of how socio-cultural factors can frame the challenges that people face in particular communities, especially the varied ethno -cultural groups of the larger African community.
Nalda has initiated and helped develop programs and projects to enhance the learning capacity and knowledge of students at all levels from primary to tertiary institutions. Close to her heart are the self-confidence of young women and the empowerment of women and their families.
The challenges faced by individuals with HIV/AIDS in particular ethno-cultural communities, prompted Nalda to institute and implement counseling and health related activities relevant to their specific situations. She continues to be an active member of local and global HIV/AIDS organizations.
Her engagement within the community is matched by her ease in communicating with government and in non-governmental agencies and bridging the boundaries of race, ethnicity and class. In her journey, she lives her belief that 'one individual with vision and commitment who is prepared to do the hard work' can make a difference. For Nalda, her path included the work to ameliorate perceptions, benefit socio-cultural dynamics and bring about meaningful change by identifying and remedying community challenges.
Nalda views community building as a process for societal change and she understands this change as altering many of the current perceptions of peoples of African heritage. "It also means change in the level at which they participate in the social, economic and political life of the society, change in the ways they have access to societal resources." From Nalda's perspective, societal change is both an individual and a collective action.
She has worked tirelessly to foster the empowerment of our community and their full participation as citizens within Canadian society.
As she looks to the future, Nalda sees the addition of more young women onto the NCBWF Board and a new space in the City of Burnaby at Metrotown Place. The new centre will have programs, for seniors and youth as well as After School, Saturday and summer programs.